Out-Advertising Limited is an innovative, Christchurch outdoor advertising company. We specialise in large spectacular billboards, banners, wallscaping and street furniture.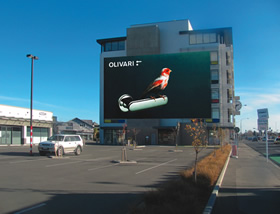 We are also currently focusing on spectacular Temporary Advertising Posters (TAPS) on rebuilds due to the earthquake in Christchurch.
Outdoor Advertising is easily the best way to get exposure. This kind of advertising is cost effective and gets your brand known. It is a constant advert for 24 hours a day, seven days a week.
About Us
We are a Billboard advertising company. We agree licenses with site owners to advertise on their property and then construct, erect and dismantle the billboard advertisements. Once we have obtained the relevant resource consents, we market the site with advertising agencies and enter into a formal agreement with the company whose products we are advertising for a fixed period of time.
Why Choose Us?
We concentrate our efforts on a small number of large-scale advertisements. Each is custom built to our advertiser's specific instructions. As we confine ourselves to a smaller number of sites than most advertising companies our success depends more on how faithfully we carry out our clients' wishes.
We have a friendly, energetic team.
Contact us now and you will not regret it.